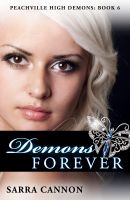 By Sarra Cannon
Ah.. if I would to answer and enumerate some series I enjoyed the most, PVH series will be one of my answers. With a recommendation and a smile. :)
Description:
Despite living in the safety of her father's castle in the shadow world, Harper knows there is a storm brewing just beyond the dome. Priestess Winter will never rest until she gets the Order's blue ring back, and Jackson won't let her forget they now hold the key to Aerden's future.

When an unexpected visitor from Peachville arrives at the castle, bleeding and near death, his story brings Harper to her knees. Someone she loves has been kidnapped and it's time for her to make a choice. Stay in the safety of the domed city? Or go back to the place where it all began? (from smashwords.com-- goodreads is down!)
I started reading this series few months ago and I have to stop continuing until this last book because I knew I would tear up. But you know what, I didn't. Not because it's not good, or the conclusion isn't worth the wait, but because it's sooo good I couldn't have asked any other way for it to end. Although Lea's story will start anew(and with surely a journey), this series is so brilliant, I wouldn't want to be disappointed if the next story is not this good. But then again, Sarra Cannon, in the way she wrote every book with such clarity and heart-thumping quality, i could never doubt.
It's so sad that this series is not being noticed much than any series there that holds so much attention. This is so underrated and I wanted for you guys to grab a copy or buy its ebook and start reading the book 1. It's so addicting you might want to finish every book each day. The books 1 to 5 is 120 plus long and with its fast pace, you can finish it in a week. Then there goes the book 3 which is a very generous finale having 300 plus book pages. Every scenes somehow will take you at Peachville and tell you to hold unto your seats because Harper and her friends will start a war between witches and demons. So many secrets and lies in every Prima's generation of witches that somehow you may find yourself asking more questions along the way. It keeps getting better and better as if you can conclude what's gonna happen but you also know it's not gonna end easy and that's where you've been knock-off because you've been hurt by one of the characters and yeah.. you want this book to really end just to know how this book will surprise you and so you're hanging on. That's what I felt. *laughs* That's what I felt.. because every book was written with every chapter laid out short your adrenaline of having to read its pace is fast, you barely breathe. You'll be starting a good new chapter with a zeal and then it's written to a point where it's getting more and more interesting and then somehow you've been cut short because it hanged really smooth not knowing that you have to start a short chapter again just to know what will happen next. And it feels like having to have a good full interest again which is so crazy as if you've been reading your favorite book for the nth time again.
I like the synopsis of this book, when you happened to read it in goodreads, it was like 'every power has a price'. This conclusion is such a revelation because all secrets has been laid out, every pieces of the puzzles has been put together and all Harper must do is to make a move and click everything into place.
This series I think focused on having to stand what is right and empowering yourself, even better because you are a girl. I read this book series having to instill a very important lesson in my mind which is to pursue things that you wanted in life. It's also about not letting greed for power take the best of you.
If you recently read about a novel that made you cry a river, choose this series because it will make you feel how easy it is to know what you want and easier if you fight for what is right. (which can save you a bucket of tears--even if you might still cry-but you will feel a journey worth being experienced)
:>
c
*of course, this is my book-reading experience, every one is entitled to their own review
*night,night <3---